Vorige programma's
oktober 2018
Psalmmotetten en een Letse mis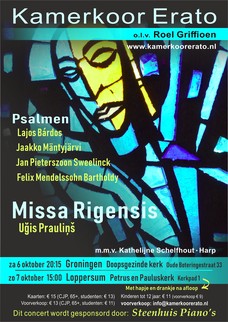 april 2018
Beroemde Dichters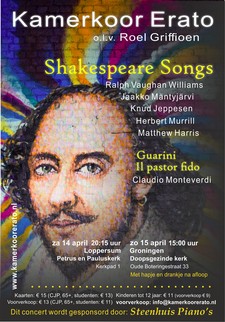 april 2017
Passieconcert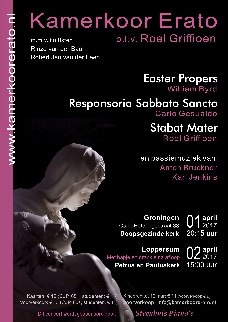 oktober 2016
Rozen en doornen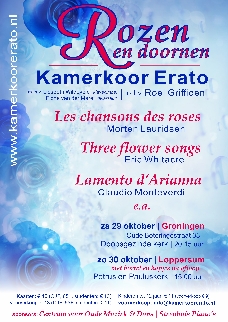 december 2015
Kerstconcert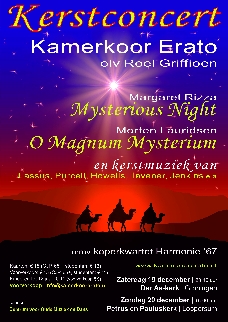 juni 2015 (beluister dit concert hier via mp3 bestanden)
Water en vuur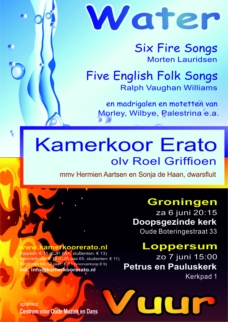 november 2014
Leven en dood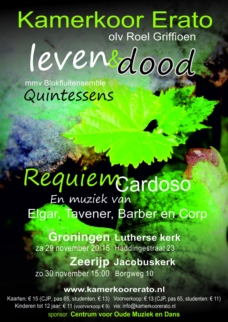 mei 2014
Lustrumconcert - 25 jaar Erato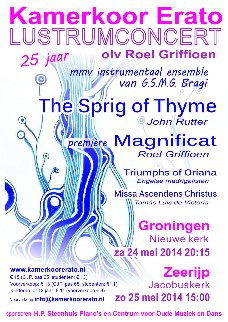 oktober 2013
Rond de Oostzee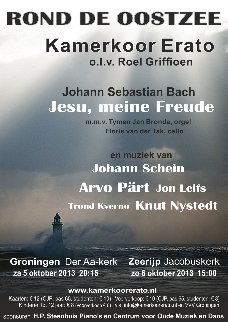 februari 2013
Valentijnsconcert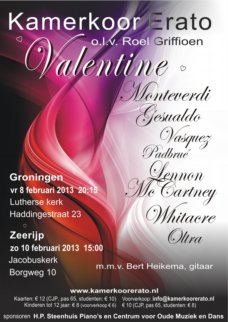 maart/april 2012 (beluister dit concert hier via mp3 bestanden)
Passieconcert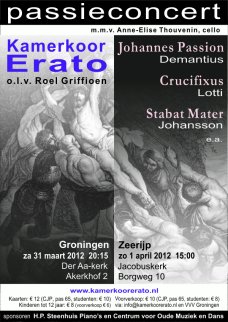 oktober 2011 (beluister dit concert hier via mp3 bestanden)
Najaarsconcert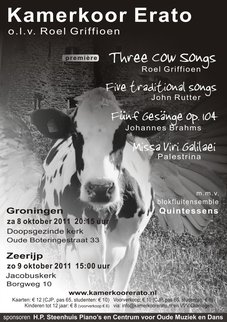 december 2010 (beluister dit concert hier via mp3 bestanden)
Kerstconcert met AVE uit Apeldoorn

Bach - vom Himmel Hoch (door Erato)
Walther - Nun komm der heiden Heiland; Joseph lieber, Joseph mein (door Erato)
Schütz - Das Wort ward Fleisch; Ein Kind ist uns geboren (door Erato)
Praetorius - Sandstrom - Es ist ein Ros entsprungen (Erato samen met AVE)
Sweelinck - Hodie Christus Natus Est (door AVE)
Lauridsen - O Nata Lux (door AVE)
Poulenc - Hodie Christus Natus Est (door AVE)
Schütz - Deutsches Magnificat I (door Erato)
Stanford - Magnificat (Erato samen met AVE)
Howells - Lullaby (door AVE)
Britten - Hymn to the Virgin (door AVE)
Bennet - Lullay mine liking; Nowel; Puer Nobis; Susanni (door Erato)
Gardner - Tomorrow shall be my dancing day (Erato samen met AVE)
oktober 2010 (beluister dit concert hier via mp3 bestanden)
Najaarsconcert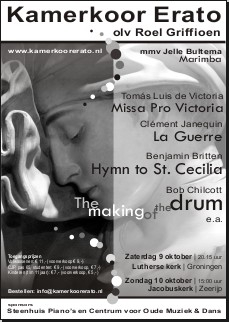 december 2009 (beluister dit concert hier via mp3 bestanden)
Kerstconcert

Robert Parsons - Magnificat
Heinrich Schütz - Deutsches Magnificat
Johann Walther - Nun komm der heiden Heiland; Joseph lieber, Joseph mein
Johann Sebastian Bach - Vom Himmel hoch da komm' ich her
Heinrich Schütz - Das Wort ward Fleisch; Ein Kind ist uns geboren
Benjamin Britten - A Ceremony of Carols (1942)
Richard Rodney Bennet - Lullay mine liking; Nowel; Puer Nobis; Susanni
Arvo Pärt - Bogoroditse Dyevo (Mother Of God)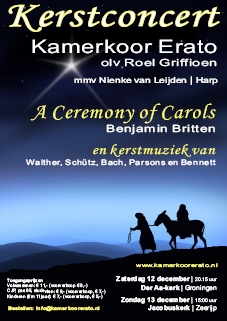 februari/maart 2009 (beluister dit concert hier via mp3 bestanden)
Un soir de Neige

Guillaume de Machaut - Messe de nostre Dame (1365); ook uitgevoerd in juni, in Hoorn (mp3, filmpje op Youtube)
Maurice Duruflé - Quatre Motets (1960)
Clement Janequin - diverse chansons (rond 1550)
Francis Poulenc - Un Soir de Neige (1944)
Francis Poulenc - Chansons Francaises (1945)
juni 2008 (beluister dit concert hier via mp3 bestanden)
Dubbelkoor (in samenwerking met AVE uit Apeldoorn)

Maurice Duruflé - Requiem
Johannes Brahms - Op 110 Fest und Gedenksprüche
Zoltán Kodaly - Miserere
Zoltán Kodaly - Jezus és a kufarok
John Tavener - Hymn to the mother of God
- Hymn to the dormition of God
- Song for Athene
Lajos Bardos - Popule Meus
oktober 2007
De Barca en andere stukken

Adriano Banchieri - Barca di Venezia per Padova
Hendrik Andriessen - Qui habitat
M. Kocsar - Missa Tertia
februari 2007
Muziek over muziek

T. Tomkins - Music Divine
J. Wilbye - Ye that do live in pleasures
R. Carlto - Sound Saddest Notes
T. Hunt - Hark! Did ye ever hear?
E. Johnson - Come, blessed bird
T. Weelkes - What have the Gods/Methinks I hear
F. Pilkington - Sing we, dance we
F. Pilkington - O Softly Singing Lute
T. Weelkes - We Sheperds Sing
T.F. Walmisley - Music, all powerful
R. Clarke - Music, when soft voices die
R. Vaughan Williams - Silence and music
E. Carter - Musicians Wrestle Everywhere
G. Bush - Orpheus
- Thomas Morley
- Henry Lawes
- Giles Farnaby
- Pan

april 2006
Passieconcert

Gregoriaans: Invitatio in ostendenda sancta cruce (onbekend)
Tomás Luis de Victoria - Lamentationes Jerimiae prophetae
Carlo Gesualdo - O Vos Omnes
John Blow - Salvator Mundi
Claudio Monteverdi - Christe, adoramus te
Roel Griffioen - Stabat Mater (Wereldpremière)
Rudolf Mauersberger - Lukas Passion
oktober 2005
Ode aan de nacht en Oost-Europese muziek

Cyprien de Rore - O sonno
Andrea Gabrieli - Sonno diletto e caro
Orlando di Lasso - Vedi l'aurora
Claudio Monteverdi - Ecco mormorar l'onde
John Ward - Come, sable night
John Wilbye - Draw on, sweet night
Rolland de Lassus - La nuit froide et sombre
Janequin - Le chant de l'Alouette
Peter Iljitsch Tschaikowsky - Sieben Chöre
Lajos Bárdos - Missa Quarta
Arvo Pärt - Magnificat
december 2004
Kerstconcert

Tomás Luis de Victoria - Gaude, Maria Virgo
Peter Philips - O beatum et sacrosanctum diem
Giovanni P. da Palestrina - O magnum mysterium
Giovanni Maria Nanino - Gloria in excelsis Deo
Johann Sebastian Bach - O little one sweet
William Byrd - This day Christ was born en Lullaby, my sweet little baby
Thomas Weelkes - Gloria in excelsis Deo
Francis Poulenc - Quatre motets pour le temps de noël
Peter Warlock - Bethlehem Down
William Walton - What cheer?
Kenneth Leighton - Lully, lulla, thou little tiny child
Traditional English Carol (Arr: Ben Parry) - The Boar's Head Carol
John Rutter (Arr: Roel Griffioen) - God rest you merry, gentlemen
april 2004
Jong/oud en Leven/dood

Madrigalen van Monteverdi en Gesualdo
Motetten van Schütz en Telemann
Twee werkjes voor vrouwenkoor - Béla Bartók
Five Childhood Lyrics - John Rutter
Nederlandse volksliedjes - Jetse Bremer
Three nonsense songs - Mátyás Seiber
oktober 2003
Componisten uit de Nederlanden

Madrigalen van Willaert, Schuijt en De Wert
Missa Brevis - Henk Badings
Drie motetten - Herman Strategier
februari 2003
Psalmen & Elgar (beluister dit concert hier via mp3 bestanden)

4 Hebreeuwse psalmen - Salamone Rossi
4 Franstalige psalmen - Jan Pieterszoon Sweelinck
Part Songs - Edward Elgar
mei 2002
Iberisch concert

Missa Gaudeamus - Tomas Luis de Victoria
Dos Tonadas Levantinas - Oscar Esplá
Canções Regionais Portuguesas - Fernando Lopes-Graça
Romancero Gitano - Mario Castelnuovo-Tedesco
november 2001
Herfstconcert met als thema natuur
(vogels, herfst en bloemen).
The silver swan - Orlando Gibbons
Sweet Suffolk owl - Thomas Vautor
Il bianco e dolce cigno - Jacob Arcadelt
Quel Rossignuol - Orlando di Lasso
Quel augellin, che canta - Claudio Monteverdi
Im Herbst - Johannes Brahms
Autumn - Frank Bridge
Des pas dans l'allee - Camille Saint Saëns
Hoe zeere vallen ze af - Albert de Klerk
Les fleurs et les arbres - Camille Saint Saëns
De waterlelie - Herman Strategier
Kung Liljekonvalje - David Wikander
Five flower songs - Benjamin Britten
maart 2001
Passieconcert
Johannes Passion - Leonard Lechner
Lamentationes - Tomas Luis de Victoria
Stabat Mater - Györgi Orbán
Vexilla regis - Anton Bruckner
O sacrum convivium - Peter Serpenti
Popule Meus - Lajos Bárdos
The sorrows of Mary - Richard Rodney Bennet
juni 2000 (beluister dit concert hier via mp3 bestanden)
Italiaanse en Franstalige muziek van Italiaanse, Franse en Nederlandse componisten.

Lamento d'Arianna - Claudio Monteverdi
Madrigalen van Orlando di Lasso, Cypriano de Rore en Giaches de Wert.
Trois Chansons - Claude Debussy
Prière - Ton de Leeuw
Chanson d'automne - Alphons Diepenbrock
Psaeume 121 - Daan Manneke
Sonnet - Hendrik Andriessen
november 1999 (beluister dit concert hier via mp3 bestanden)
Concert ter gelegenheid van het 10-jarig bestaan van Erato
in samenwerking met het 20-jarig Apeldoorns Vocaal Ensemble.

Enkel- en dubbelkorige motetten - Henry Purcell, Orlando Gibbons, en Heinrich Schütz
"Komm, Jesu, komm&quot - J.S. Bach
Mis voor dubbelkoor en solokwartet - Ralph Vaughan Williams
"Faire is the Heaven" - William Harris
december 1998
Kerstconcert
Enkele latijnse advents- en kerstmotetten van Lassus, Sweelinck en Parsons.
Salve Regina - Poulenc
Singet Frisch und Wohlgemuth - Distler
Drie oude spaanstalige Christmas Carols - Guerrero
Enkele hedendaagse engelstalige Christmas Carols van o.a. Pearsall, Rutter en Rathbone.
maart 1998
The lamentations of Jeremiah - Thomas Tallis
Sestina - Claudio Monteverdi
Chansons Françaises - Francis Poulenc
Een chanson van Herman Strategier
Hongaarse volksliederen - Kodaly
Nederlandse volksliederen bewerkt door Jetse Bremer